Graduated Students' Current Lives
Stories of our Graduates
Here are the stories of some of our graduates.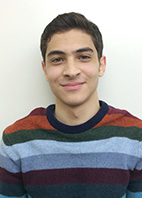 ABUALOLA, MAJED AMIN M
From SAUDI ARABIA
Graduated in March 2016
I chose to study at Sendagaya Japanese College because I was recommended by the Cultural Office of the Royal Embassy of Saudi Arabia, and also by my brother who studied at the school before. The teachers at Sendagaya Japanese College are so nice and they are like family to me in Japan. When I told my teacher that I got accepted to the university, she was moved to tears and gave me a hug. I remember I felt like she really was my mother at that time. At school, we did not only learn Japanese, but also got the ability to pass the most difficult Japanese test. The teachers here use visual aids, combined with original teaching methods, so that we had a fun time learning Japanese. We could also learn mathematics, physics and chemistry in Japanese. Sendagaya Japanese College is a wonderful school. If you would like to learn Japanese, please do not hesitate to study at Sendagaya Japanese College.
LIN WEITONG
From CHINA
Graduated in March 2016
I am from Dalian, China and I came to Sendagaya Japanese College to learn Japanese in October 2014. After studying there for about 1 year, I got a good score on the EJU and was successfully admitted to Doshisha University. I would like to thank Sendagaya Japanese College and the teachers there for that. The school is located in Shinjuku-ku, a lively city in the center of Tokyo, where you have excellent access everywhere. I got used to the life and studying there soon after I came to Japan. Furthermore, the school facilities are fine and the students are from all over the world. I made many foreign friends there. It is very interesting that we can communicate with each other in Japanese or English while our native languages are different. I am thankful for my teachers. The teachers are very nice and they always taught us Japanese using gestures. They made my dream come true and helped me become a better person. I will never forget Sendagaya Japanese College and the teachers there.
TRAN QUYNH ANH
From VIETNAM
Graduated in March 2016
I came to Japan and studied at Sendagaya Japanese College for one and a half year. During my time there, the Japanese teachers have guided me with great passion. I am also glad that I made friends with students from all over the world. Though I have to leave Sendagaya Japanese College and enter university soon, I will always keep the unforgettable memories of school life from Sendagaya Japanese College.
2017 Heartfelt Graduation Ceremony